Salmon Poke Bowl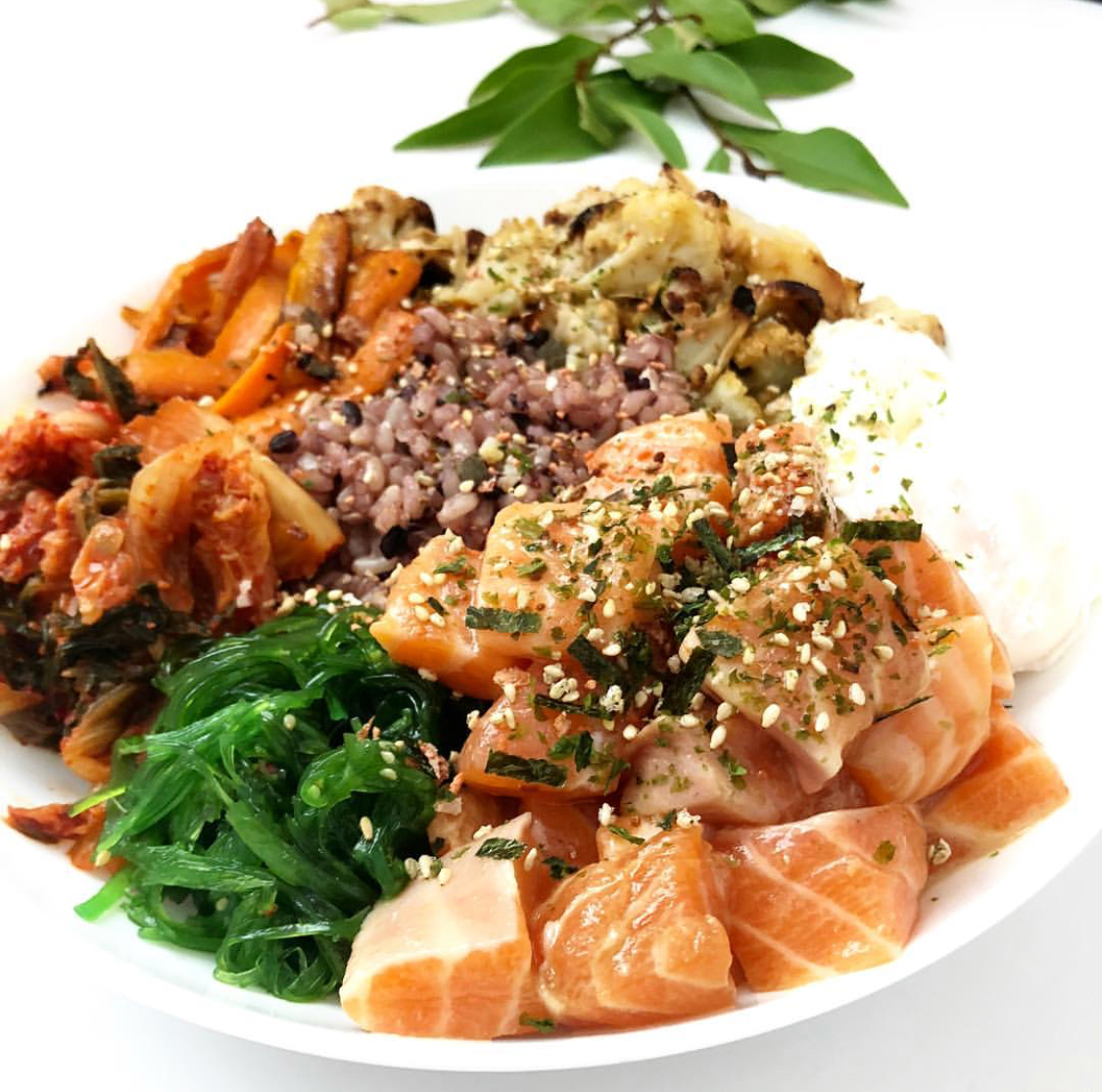 Serving Size: 2
Cooking Time: 35 minutes


Ingredients:

Wakame Seaweed (pre-seasoned) - 2 tablespoon
Sashimi grade salmon - 200 grams
Brown rice uncooked - 1/2 cup
Purple rice - 2 tablespoon
Quinoa - 2 tablespoon
Carrot - 1 medium
Cauliflower - 1 cup chopped
Kimchi - 2 tablespoon
Eggs - 2 medium
Soy Sauce - 1.5 tablespoon
Wasabi - 1/2 teaspoon
Olive Oil - 2 tablespoon
Fresh Thyme - 2 teaspoon
Salt and Pepper - a pinch
 

 
Method:
1. Preheat oven to 180 degrees celcius
2. Mix brown rice, quinoa and black rice in a rice cooker pot and rinse through water. Add 1.5 cups of water in the pot to cook.
3. Peel and cut carrots into sticks and place on a foiled baking tray. Add chopped cauliflower to tray as well and drizzle oil, thyme and salt and pepper. Place tray in preheated oven and cook for 25 minutes
4. Dice up salmon and mix with soy sauce and wasabi then set aside.

5. Add boiled water in a non stick pot (around 2 cm from the bottom of the pot). Crack two eggs into the pot, try not to let the two eggs stick together. Turn the fire to low heat and place a lid on the pot. Poach for 3-4 minutes. Use a ladle or a strainer scoop to remove the poached eggs.
6. Plate the poke bowl with the rice on the bottom, carrots, cauliflower, kimchi, seaweed, salmon and poached egg on top. Enjoy!